Sleep Better – a coaching programme for short-term insomnia
The purpose of the Sleep Better programme is to help you understand and improve the quality and quantity of your sleep.
According to Finnish sleep researchers, about one third and one tenth of people of working age in Finland suffer from short-term (acute) or chronic insomnia, respectively. In most cases, the causes of insomnia are very complex and have a combined effect on our comprehensive wellbeing.
Information about the lifestyle coaching programme
The 12-week programme includes weekly themes and exercises published in OmaMehiläinen. The programme gives you tips on how to focus on the factors that determine the quality of your sleep
The weekly themes of the Sleep Better programme provide you with:
information about factors that determine the quality of your sleep and habits that support good quality of sleep

ideas and exercises for promoting good quality of sleep

additional reading material about sleep.
Your personal sleep coach will monitor your progress and support you remotely throughout the programme. The programme also includes three appointments with your sleep coach.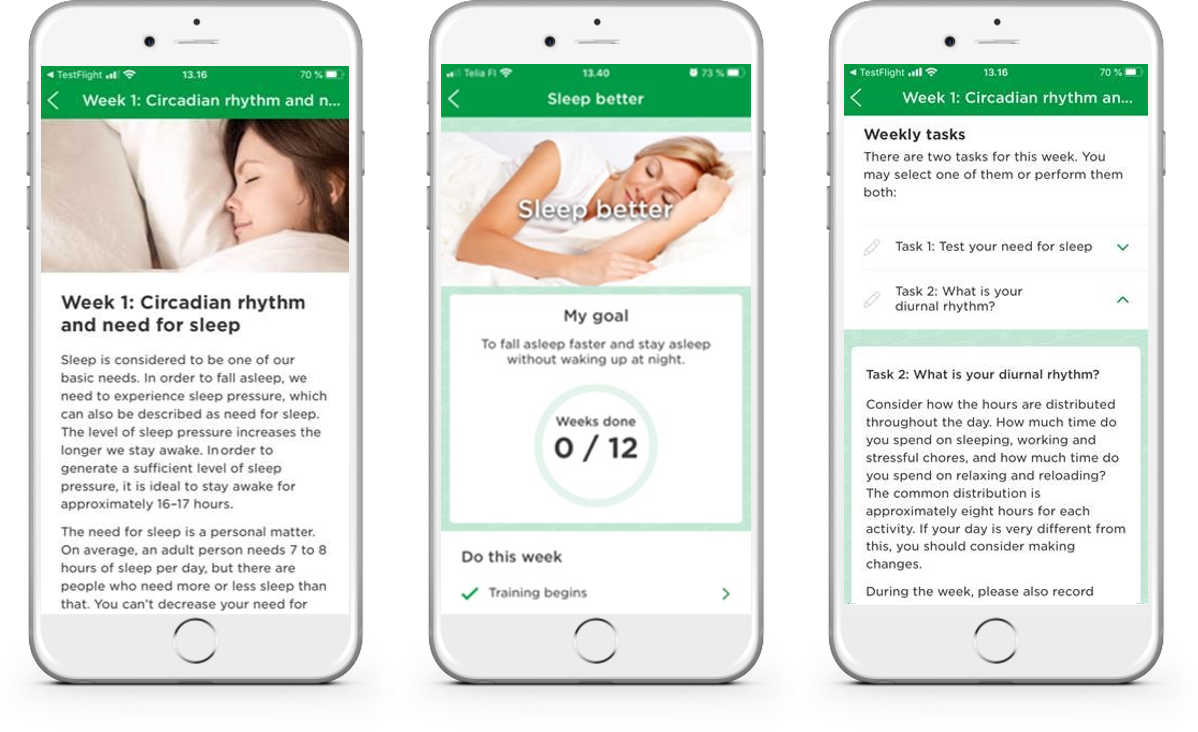 Who is the programme designed for?
The programme is designed for people who suffer from occasional insomnia. If you feel that you need help for your insomnia, the programme could be ideal for you.
Do you want to learn more?
Call the coaching programme customer service
+358 (0)10 414 0215 (0,0835 €/call + 0,1669 €/min) Mon–Fri 8 a.m.–4 p.m.
Or leave a call request by clicking this link.
We will reply to your request on business days between 8 a.m. and 4 p.m.
How can I purchase a coaching programme?
Fill in the form below to purchase the Sleep Better programme.
If you are an occupational health customer of Mehiläinen and a coaching programme is included in your occupational health agreement, please contact your occupational health nurse.
After submitting the form, the programme will begin accordingly:
A coach will contact you by phone to determine your personal goals and to start the programme.

Once the programme has started, we will send you an invoice (EUR 400/lifestyle programme, charged in two instalments).

Download the

OmaMehiläinen app

to your phone or tablet computer. You can also use the OmaMehiläinen online service at

https://oma.mehilainen.fi

 

The programme will begin with an introduction and a pre-coaching survey in OmaMehiläinen.