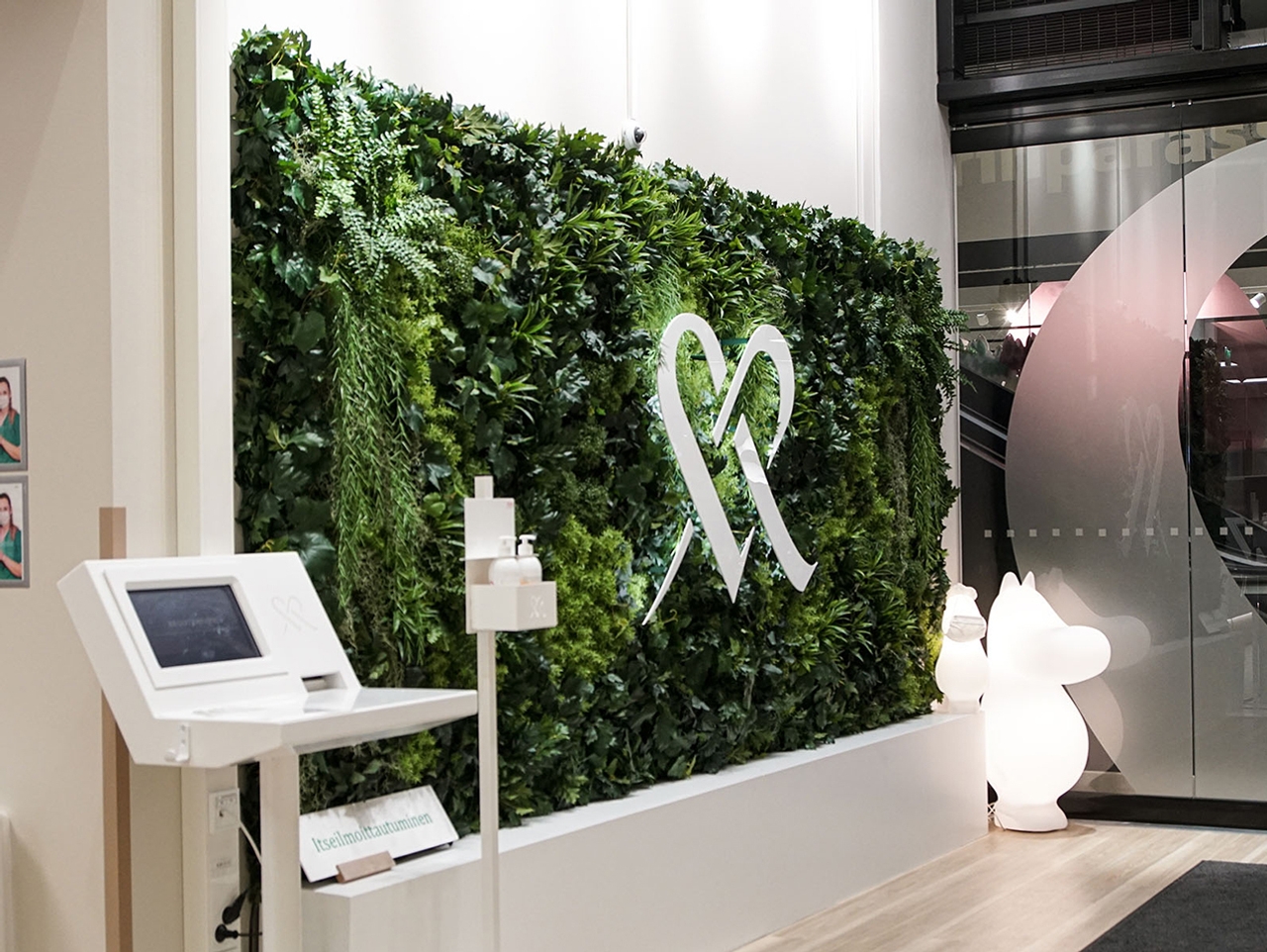 The activities and personnel of Aurora Hammaslääkärit are now a part of Mehiläinen. Our skilled team will continue to serve you at our clinic at Kirkkopuistikko 4, 65100 Vaasa with the old telephone number 010 271 2700 (0,0835 €/call + 0,1669 €/min) and email address info@aurorahammas.fi.
1.11.2021 onwards bookings will be handled through the following: Aurora's online booking, and OmaMehiläinen-webservice.
The OmaMehiläinen service's customer benefits are available from 1 January 2022.
---
Appointment booking by phone and enquiries
The fastest and easiest way to book an appointment is directly through Mehiläinen's online appointment booking service.
Book an appointment
Our phone service is open every day around the clock.
---
Sijainti
Services
Opening hours
| | |
| --- | --- |
| Monday 29.5. | 08:00 - 19:00 |
| Tuesday 30.5. | 08:00 - 16:00 |
| Wednesday 31.5. | 08:00 - 16:00 |
| Thursday 1.6. | 08:00 - 16:00 |
| Friday 2.6. | 08:00 - 14:30 |
| Saturday 3.6. | Closed |
| Sunday 4.6. | Closed |
Puh: 010 273 8000 (0,0835 €/call + 0,1669 €/min) (0,0835 €/puhelu + 0,1669 €/min)
Fax:
:
Puh: 010 271 2700 (0,0835 €/call + 0,1669 €/min)
Fax:
:
Maksutavat: pankkikortti, luottokortti, ePassi (Hyvinvointi), Mehiläisen lahjakortti ja Svea lasku- ja erämaksu.
Otathan Kela-kortin mukaan!
Laskureklamaatiot: Vaasaaurorahammas@mehilainen.fi
Betalsätt: kontant, bankkort, kreditkort, ePass (Välbefinnande), Mehiläinens presentkort samt Svea faktura och delbetalning.
Kom ihåg att ta med FPA-kortet!
Fakturareklamationer: Vaasaaurorahammas@mehilainen.fi
Potilastietojen tilaaminen
Puh: 010 271 2700 (0,0835 €/call + 0,1669 €/min)
Fax:
:
Saat halutessasi Mehiläisen hammaslääkärissä otetut tutkimuskuvat, esimerkiksi röntgenkuvat tai potilaskertomukset itsellesi.

Jos haluat potilaskertomuksen tai hammaskuvat itsellesi, toimi näin:
1. Tulosta potilastietojen tilauslomake tai pyydä lomake hammaslääkärisasemaltamme.
2. Täytä lomake ja tuo se mille tahansa Mehiläisen hammaslääkäriasemalle. Emme valitettavasti voi ottaa
tilauslomakkeita sähköisesti vastaan tietosuojasyistä.
3. Tuodessasi tilauslomakkeen näytäthän samalla henkilötodistuksen. Näin varmennamme henkilöllisyytesi ja
pidämme huolta jokaisen asiakkaamme tietoturvasta.
4. Postitamme tiedot sinulle kotiin 1-2 viikon kuluessa.
Om du vill får du själv de undersökningsbilder, t.ex. röntgen, eller patientjournaler som upprättas på Mehiläinens tandläkarmottagning.
Om du vill ha patientjournalen eller tandbilderna ska du göra så här:
1. Skriv ut?beställningsblanketten för patientuppgifter på vår webbplats eller be om en blankett på vår tandläkarcentral.
2. Fyll i blanketten och lämna in den på vilken av Mehiläinens tandläkarcentraler som helst. Tyvärr kan vi inte ta emot
beställningsblanketter elektroniskt av dataskyddsskäl.
3. Uppvisa identifikation när du lämnar in beställningsblanketten. På så sätt kan vi bekräfta din identitet
och sörja för varje kunds informationssäkerhet.
4. Vi skickar uppgifterna till din hemadress inom 1–2 veckor
Puh: 010 271 2700 (0,0835 €/call + 0,1669 €/min)
Fax:
:
Jos haluat jättää soittopyynnön vastaanotollemme tai lääkärillesi voit tehdä sen lähettämällä sähköpostia osoitteeseen: Vaasaaurohammas@mehilainen.fi. Tai soittamalla asiakaspalveluumme 010 271 2700 (0,0835 €/call + 0,1669 €/min)
Om du vill lämna en begäran om återuppringning till vår mottagning eller din läkare kan du göra det genom att skicka e-post till adressen: Vaasaaurorahammas@mehilainen.fi.
Prices
The price list of doctor's appointments and procedures can be found on the Price lists page.
Go to the price list
Instructions
Vastaanottomme sijaitsee palosaaren sillan kupeessa ,Kirkkopuistikon ja Museokadun kulmassa noin 200m kirkolta palosaaren suuntaan.
Free guest parking along Museokatu. There is no parking in the courtyard at this time. Disabled parking is in front of the main door.
Unobstructed access to the reception from the stairwell on the Palosaari side along Kirkkopuistikko.
Location doctors and people in charge
Yksikönjohtaja
Tamara Koskimies
Vastaava lääkäri
Ilona Vehkaoja
Potilasasiamies
Ida-Sofia Nurmi, puh: 040 676 4376