Take a Breath – a wellbeing programme for managing stress
Take a Breath is a wellbeing coaching programme designed to help you manage your stress and maintain your mental wellbeing.
Stress (Webpage in finnish) is a common problem. Occasional stress can be caused by challenging life situations related to work, studying, family life or other interpersonal relationships.
Through the Take a Breather programme, we want to offer you a variety of everyday ideas and tools for stressful situations. In the programme, you will be given concrete tips and methods for transforming a stressful and challenging everyday life into a pleasant life.
Information about the wellbeing programme
The total duration of the programme is 13 weeks and it includes a variety of weekly themes published in OmaMehiläinen . (Webpage in finnish) Each weekly theme and the related content and exercises help you think about the things that make your life stressful and burdensome. You will also be given tips on how to make changes that support your wellbeing and coping. Your personal coach will monitor your progress and support you remotely throughout the entire programme. The price of the programme is EUR 89.90.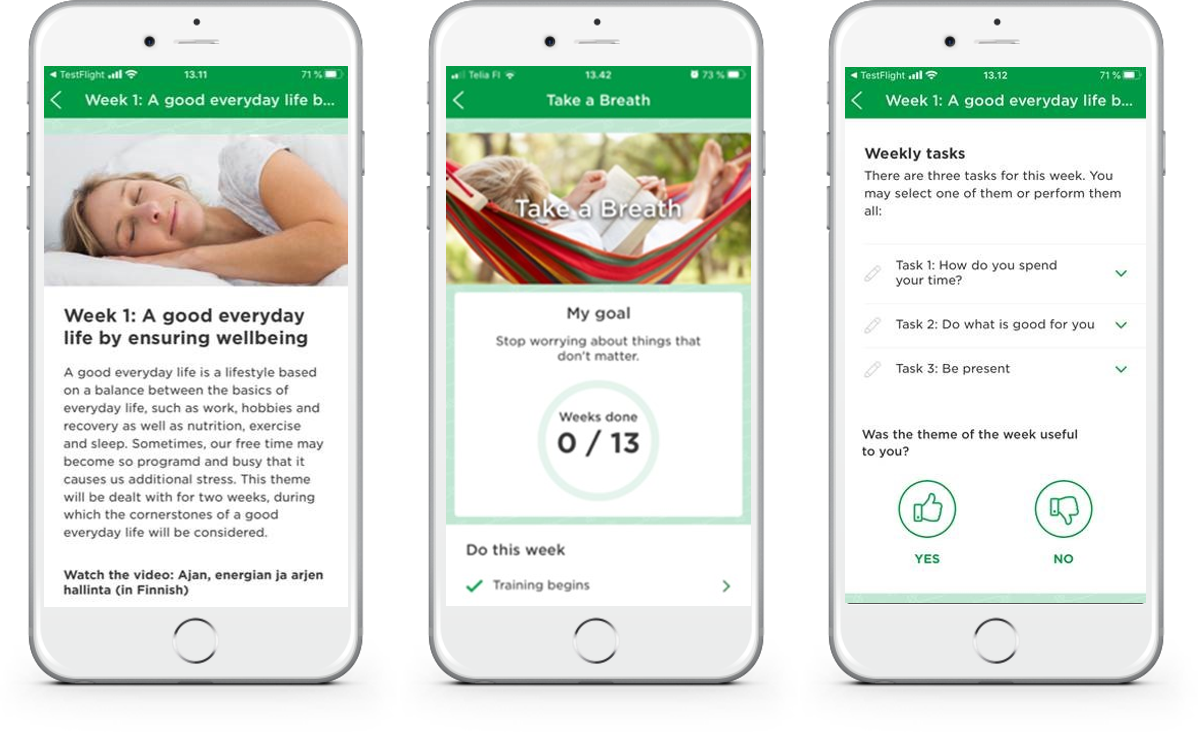 Who is the programme designed for?
The Take a Breath programme is designed for people who suffer from occasional stress and melancholy. If you feel that you need support for managing your stress and you are interested in practising new things on your own, the programme could be ideal for you. The purpose of the programme is to alleviate your stress and improve your mental wellbeing.
Do you want to learn more?
Call the coaching programme customer service
+358 (0)10 414 0215 (0,0835 €/call + 0,1669 €/min) (0,0835 €/call + 0,1669 €/min) Mon–Fri 8 a.m.–4 p.m.
Or leave a call request by clicking this link.(Webpage in finnish)
We will reply to your request on business days between 8 a.m. and 4 p.m.
How can I purchase a coaching programme?
Fill in the form below to purchase the Take a Breather programme.
If you are an occupational health customer of Mehiläinen and a coaching programme is included in your occupational health agreement, please contact your occupational health nurse.
After submitting the form, the programme will begin accordingly:
A coach will contact you by phone to determine your personal goals and to start the programme.

Once the programme has started, we will send you an invoice (EUR 89.90/wellbeing programme.

Download the

OmaMehiläinen app

to your phone or tablet computer. You can also use the OmaMehiläinen online service at

https://oma.mehilainen.fi

 

(Webpage in finnish)

The programme will begin with an introduction and a pre-coaching survey in OmaMehiläinen.