Matti Turunen to retire after working at Mehiläinen for 45 years
Matti Turunen, a GI surgeon, retired from Mehiläinen Töölö on 3 December after a career of 45 years. During his career, Turunen has also seen the difficult times at Mehiläinen – and yet he has always found a reason to stay with the company.
Matti Turunen is well-known among his colleagues for his sympathy and collegiality – and for his brown patinated briefcase. Even before the first years of his career on the fifth floor of Mehiläinen Töölö, Turunen had become familiar with the clinic: he was born in Mehiläinen Töölö hospital in 1951. In 1977, Matti began his work as a general practitioner at the same clinic. Over the years, he started to offer private practice appointments as a GI surgeon in the evenings. Turunen pursued his main career at the Helsinki University Central Hospital and the City of Helsinki as an abdominal surgeon.
There have been many changes during these years – also in medicine.
"In my specialty, especially the laparoscopic surgery in the 1990s revolutionised the way things were done for more than a hundred years. The arrival of day surgery was as amazing for the patient as it was for those who were doing it. However, Mehiläinen's ability to adapt to new situations has been amazing, and it is largely due to the people who you are working with," Turunen recalls.
Turunen says that he has always enjoyed working at Mehiläinen. He would like to thank not only Mehiläinen, but also the municipal hospital for allowing a specialist to work both in the public and private sectors simultaneously.
"Whether it is affinity through birth or not, I have enjoyed working at Mehiläinen all these years. It has been especially memorable that there has always been a certain clinic-specific team spirit at every Mehiläinen clinic and it has been easy to get into this spirit. Communality is certainly one of the reasons which has made me stay at Mehiläinen," says Turunen.
In November, Turunen's 45-year career was given a worthy ending when he had his last appointment in Porvoo.
"I started my career as a doctor in 1976 and my first job was at the regional hospital in Porvoo. Now in November, when I finished my career, I had my last appointment at Mehiläinen Porvoo Medical Clinic. I have come full circle," says Turunen.
A house surgeon valued by the work community
Jari Salo, Chief Physician at Mehiläinen's hospital in Helsinki and specialist in orthopaedics and traumatology, would like to thank Matti in particular for always being fully involved in Mehiläinen's hospital activities and their development.
"There have been times when the continuation of hospital activities and the basics of growth had to be considered. Determined quality building has paid off and now we are in the position where more surgeons would like to work for us than we can hire. The change has not happened by itself. Employees who have continued to work for Mehiläinen, despite the difficult times, have laid the foundations for the quality that Mehiläinen is known for today. At Mehiläinen, we have great respect for committed employees and private practitioners," says Salo.
Matti is one of the professionals who Salo calls "house surgeons" and who must be praised.
"Matti is a classic example of how the foundation of the company's operations starts from the people working in the company. Matti is not only a top professional in his field, but also a real gem of the work community, who has always been collegiate and committed to his work. This kind of approach creates strength and hope and strengthens the work community," Salo says in thanks.
Mehiläinen would like to warmly thank Matti for his work for Mehiläinen and wish him a happy retirement!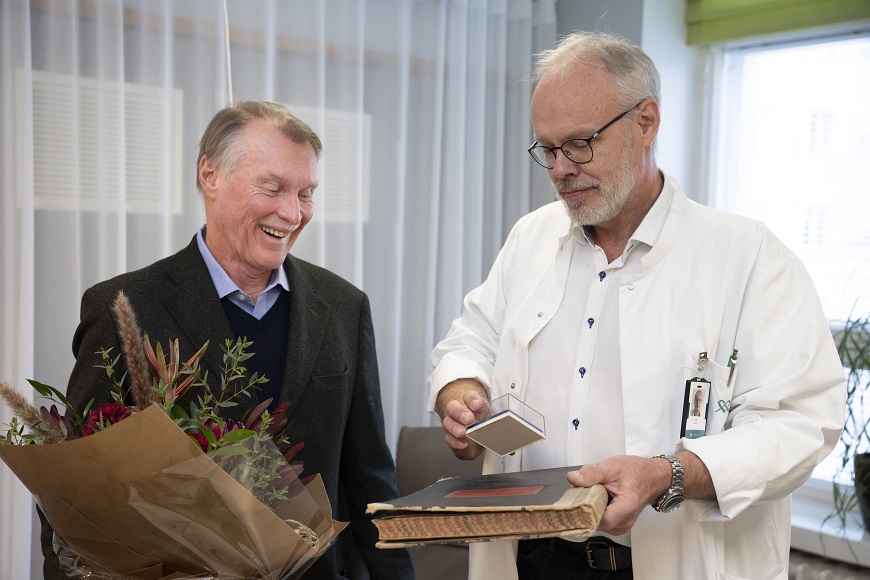 Matti Turunen and Jari Salo
---
Published 3.2.2022